Daikin Ceiling Cassette Air Conditioning
The Daikin Cassette is a powerful, efficient and unobtrusive air conditioning unit that integrates seamlessly with your ceiling. This unit is ideal for commercial, retail and residential applications, where floor and wall space is limited and year-round aesthetics and performance are of critical importance.
Powerful Performance
The Daikin Fully Flat Cassette delivers exceptional and reliable cooling and heating performance throughout the year to ensure occupants are kept comfortable when they need it.
Quiet Operation
Here at Crispair, we understand that there is nothing worse than an air conditioner that is making too much noise. This becomes an unnecessary annoyance and distraction for occupants. You can rest assured that the Daikin Cassette is one of the quietest units in the light commercial market.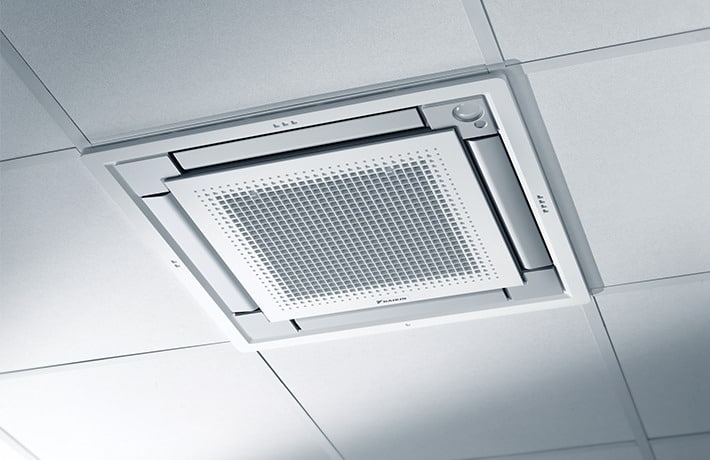 Air Quality
Research has found that air quality within offices can have significant impacts on employees' cognitive functions, including response times and ability to focus and it might also affect their productivity [1]. Advanced filters in the Daikin Cassette help to remove dust particles from the air, ensuring that it is clean for breathing.
Intelligent Technology
Daikin is a world leader when it comes to intelligent air conditioning and heating. To ensure ideal interior comfort is maintained, the Daikin Cassette unit can be fitted with an optional sensor* linked to an advanced controller.
When nobody is using a room, such as a meeting room or the break room, for example, the pressure sensor* adjusts the set point or switches of the unit, avoiding wasteful cooling or heating. Then when motion is detected, the temperature is reset to its original setpoint – ensuring energy-efficient operation.
Impressively, the sensor* also adapts the direction of the airflow depending on where people are situated in the room – to ensure that all parties are receiving the cool air flow they need.
How We Can Help
Here at Crispair, we have can work with you to find the perfect air conditioner for your needs and budget and then arrange a date and a time for installation that works best for you. *Additional sensor kit BRYQ60A2W required to enable this feature (floor and presence sensors included). References: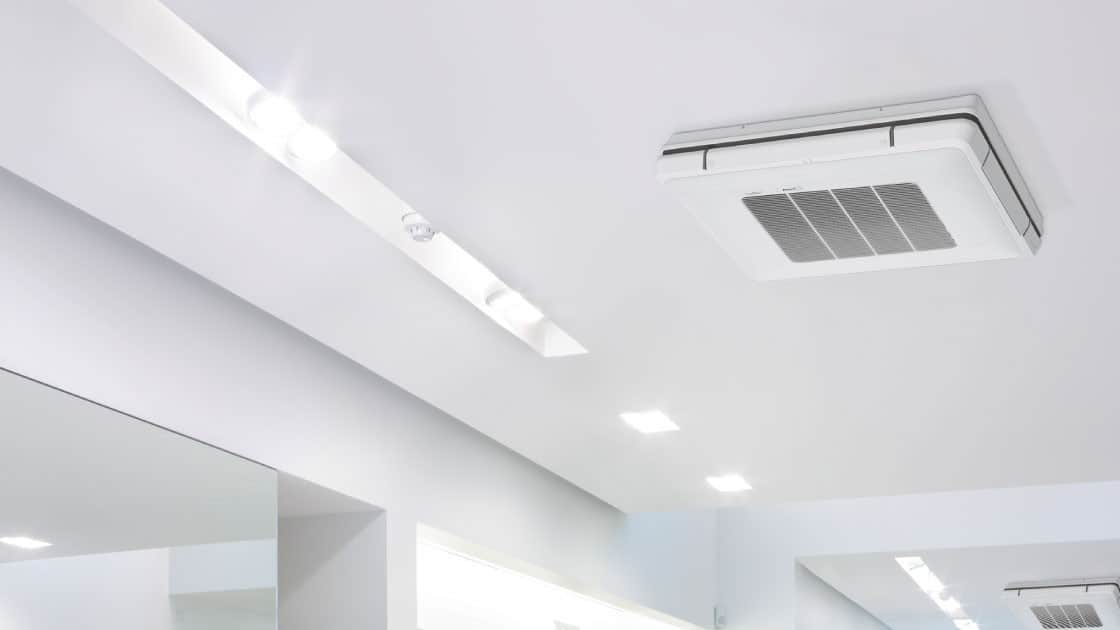 [1] 'Office air quality may affect employees' cognition, productivity by The Harvard T.H. Chan School of Public Health, 2021.