All New Panasonic Nanoe-X
Live and breathe cleaner with fresh, purified air from Panasonic. Now featuring innovated Nanoe-X technology, at Crispair we are proud to deliver this new product for Panasonic air conditioners. As a specialist provider of Panasonic air conditioners, we ensure that all our products contain the latest and best technology. Panasonic's Nanoe-X technology is certified by the National Asthma Council of Australia's Sensitive Choice Program. Nanoe-X deodorises and inhibits up to 99% of common viruses and bacteria, creating maximum comfort at home and improving indoor air quality.
Have you ever experienced unwanted side effects of air conditioning such as dry mouth and skin? Traditional air conditioning units do not have the same capabilities as Nanoe-X technology, which continuously delivers optimal levels of moisture. The best part about this system is that it continues to purify and deodorise even when it is off, meaning you can have fresh air 24 hours a day.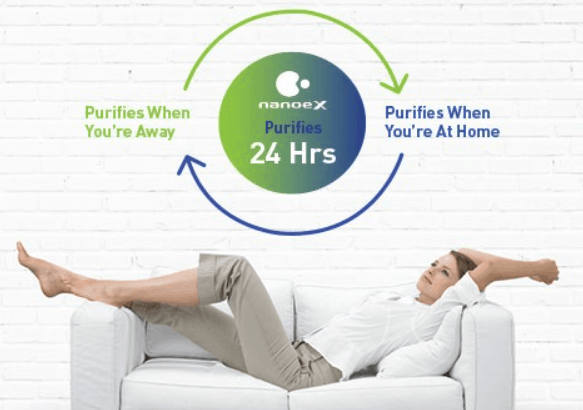 How Does Nanoe-X Work?
Through tiny, nano-sized electrostatic water particles that contain ions and Hydroxyl radicals, these react to hydrogen contained in bacteria, viruses, pollen and odour compounds, altering their molecules and inhibiting them. The Hydroxyl radicals return to the air as water. Panasonic air conditioners can generate millions of Nanoe-X particles which constantly clean the air.

Unlike standard air purifiers, Nanoe-X optimally disperses ions through the air onto surfaces, which reach deep into the fibres of sofa, carpet and clothing. This can inhibit up to 99% of airborne and adhered viruses and bacteria. The Nanoe-X particles also combine with natural skin oils to leave your hair and complexion looking hydrated and healthy! Air purification doesn't just assist asthma sufferers – the average person breathes in 18kg of air every day, which means everyone can benefit from solutions that deliver a healthier and more comfortable home environment.
Experience the benefits of Nanoe-X and see the difference for yourself! The technology is available in a range of Panasonic air conditioners, including split systems, floor consoles, ducted and cassette. At Crispair, we can tailor a Panasonic air conditioning system to suit your cost and living or working environment. To find out more about Nanoe-X, contact us today or visit our interactive showroom in Balcatta, where our expert team can assist with all your needs!
Reasons to Use Panasonic Nanoe-X