Ducted Reverse Cycle Air Conditioning Unit Costs and Savings
If you are looking to save money on your heating and cooling bills, then a ducted aircon system may be the answer.
Ducted air conditioning systems have been around for many years, but there are still plenty of people who don't know what they are or how much they can help you save on your energy bills. In this article, we will discuss the benefits that ducted air conditioners offer and provide information on the benefits of installing one in your home.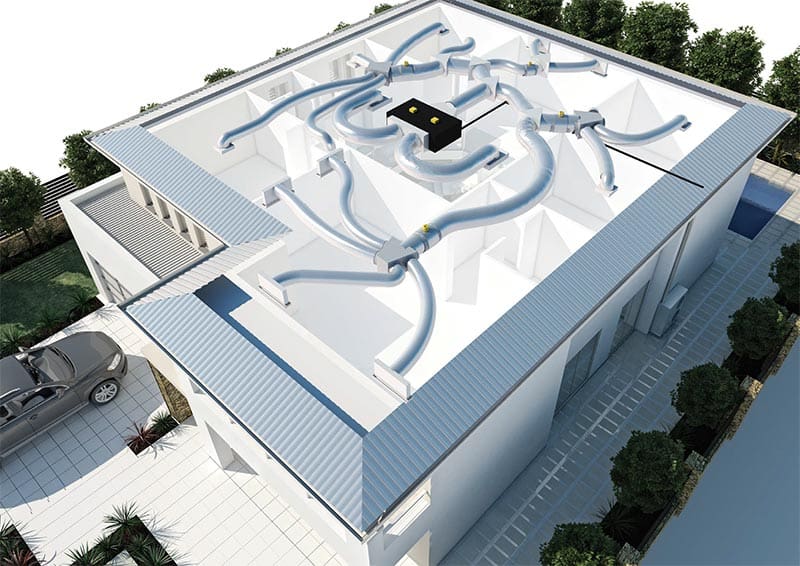 Why Ducted Air Conditioning?
Ducted systems allow you to control the temperature in your home without having to use other forms of heating or cooling, which can be expensive. Ducted systems allow all rooms to be individually zoned to minimise running costs. By adding temperature sensors in each room you can also have different rooms at different temperatures. A ducted system will also be considerably cheaper than installing individual wall splits in every room. As your system will last at least 15 years the ongoing servicing costs are cheaper with a ducted system when compared to wall splits.
Smart technology now allows control of your system from your phone either within the home or remotely. The technology and efficiency of the air conditioning systems are continually improving and a system installed today can be as much as 40% more efficient than a system installed 15 years ago.
Sizing Requirements
Air conditioners are sized according to the size of the home. A house floor plan is required for a heat load calculation to be done on every room or zone in the house. We would generally allow 75% of the total house to be conditioned at one time and every room is individually zoned gives you lots of flexibility. Other factors such as your lifestyle need to be considered. A family with young school-aged children will have different requirements on air conditioning capacities required when compared to a retired couple living in the same size house.
Installation Costs and Long-Term Savings
The cost of supplying and installing ducted reverse cycles will vary depending upon the size of the home. Other factors such as the type of controller and the quality of the components installed in the roof space will vary the price. The biggest difference is the cost of the components. A cheaper quote for the same make and model air conditioner will be due to cheaper components being used in the distribution system within the roof space. Some components are prone to air leakage which over a 15 year period will have a significant impact on running costs.
As air conditioning is a significant investment that you then inherit for many years it is important to do your research as there is generally a reason for significant differences in pricing which over time potentially will cost much more to run the system.