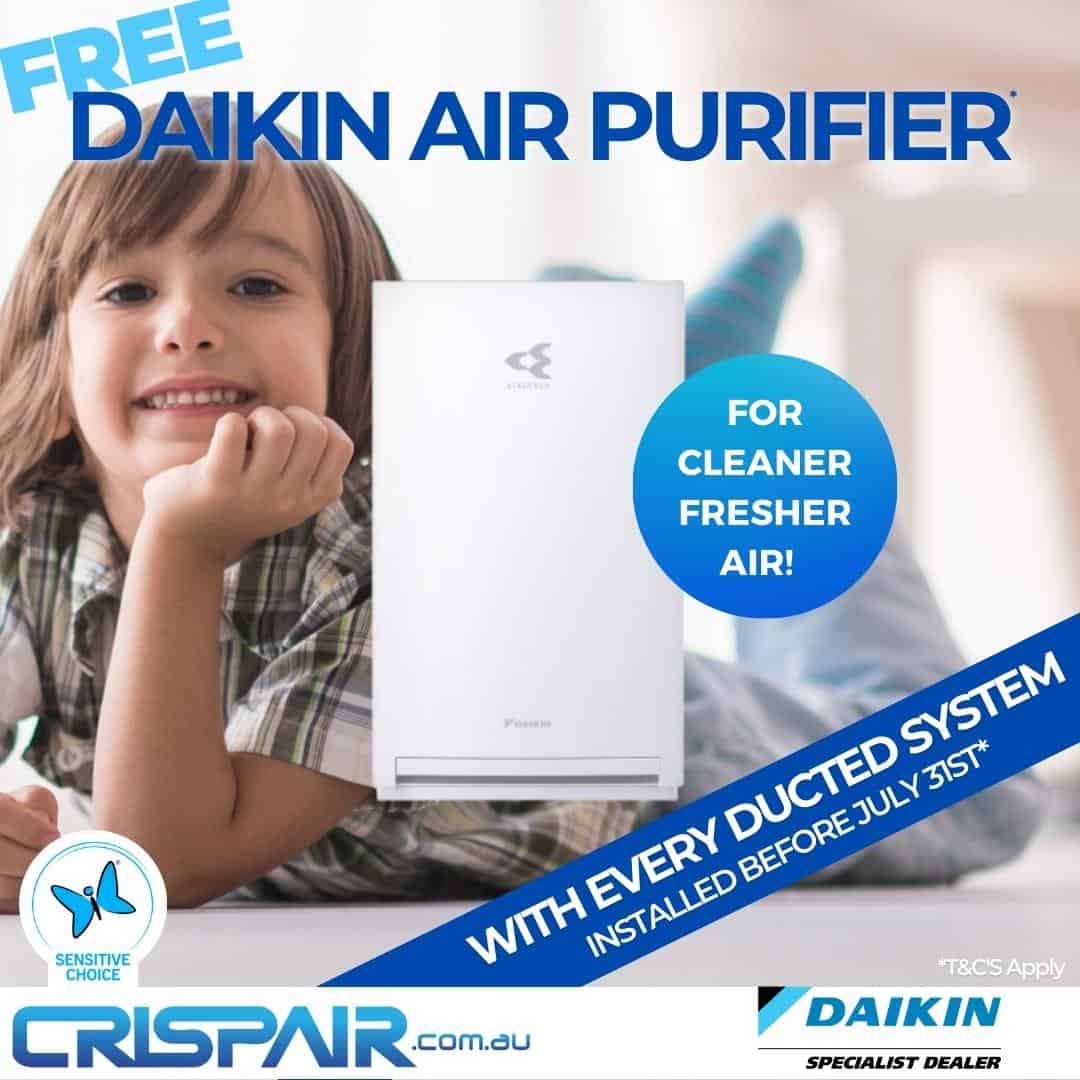 We are running a very special one-time offer for anyone that purchases one of our premium Daikin Ducted systems before July 31st!
When you purchase your Daikin Ducted system before the end of July you will receive a Daikin Air Purifier worth almost $500!*
Daikin Ducted Systems provide discreet comfort and can be tailored to suit any home and any individual or family's requirements. They heat just as well as they cool so getting one now will have you perfectly placed for the cool winter ahead!
Crispair has successfully installed hundreds of Daikin Ducted Systems throughout WA and you can rest assured that installation will be both cost-effective and reliable. 
Daikin Ducted Systems, as well as the Air Purifier included in our promotion, are both extremely energy efficient without compromising on performance. Get the same effect with smaller energy bills!
A Daikin Ducted System is a gift in itself but with our special promotion, you'll get a Daikin air purifier for free!
The FREE Daikin Air Purifier you will receive is approved by the National Asthma Council of Australia and is perfect for allergy sufferers.
They utilise Daikin's innovative Streamer Technology which is designed to capture and break down potentially harmful pollutants keeping your home's air fresh and clean. 
The Daikin Air Purifiers are suitable for rooms up to 46m2  and come in an aesthetic and compact design so they will fit in nicely within your home. They are also extremely low maintenance with the filter only needing to be replaced every 10 years!
So if you're looking at installing a ducted system or replacing your current one a Daikin Ducted System is the perfect option, and now is the time to buy! Get your Daikin Ducted System installed quickly and easily and then get a free Daikin Air Purifier to go with it!