Get Crispair Finance Today!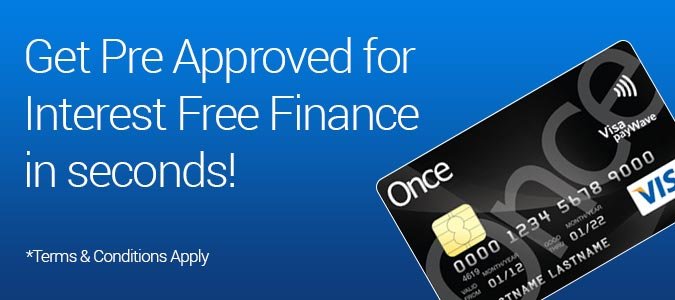 Why wait? Get it now Interest Free*
Why wait? Crispair offers you the Once 55 day Visa Card where you can buy what you want today while paying for it over time- interest free.
Long term interest free finance
No deposit
No early repayment penalties
Simple application and a decision instantly
Account comes with a 55 Day Visa card for easy access to available credit
Get up to 55 days interest free* on any card purchase made, anywhere
24/7 access to your account online
With a Once 55 Day Visa card, you only ever apply once! Use your available credit to continually take advantage of the other interest free offers at participating Once dealers without having to re-apply.
Apply online today!
It's really simple, and there is no commitment to purchase.
Apply online in minutes – simply choose from the "single" or "joint" application buttons below
Enter your information online and receive the decision via email within seconds
If approved, you will receive two emails – an Approval Notification plus an email with a link to access and electronically sign the offer. You will need to follow this link to finalise the application.
Contact us to finalise your order so we can process the financed amount and promotional offer for you to sign and accept.
To view our frequently asked questions, click here.
* Approved applicants only on a Once 55 Day Visa card. Terms, conditions, fees and charges apply including a $99 Annual Fee charged on the account open date and annually on the anniversary of the account open date. Minimum finance amount applies and is based on the promotional term. Interest, currently 19.95% p.a., is payable on any balance outstanding after the interest free period. Ask in store for details. Finance provided by Once Credit Pty Limited ABN 99 112 319 632, Australian Credit Licence Number 386194.